Proposing a clause in the Na'i Aupuni 'Aha governing document (and any other) to require a referendum vote BEFORE a future Hawaiian government makes a formal request for U.S. Federal Recognition (under the Dept. of Interior rules).
The reason? If a government is created, the Executive committee stated the future Executive will be empowered to request "Fed Rec" from the Dept. of Interior, ratified by the future Legistlature. That means if you are Hawaiian, you will NOT ever be specifically asked if you want to integrate sovereignty with the U.S. You could then be forced to start doing all your interactions as a Hawaiian to the U.S. Federal government through this new entity being created.
Currently Hawaiians ARE recognized by the U.S. via the Hawaiian Homestead Commission Act (HHCA), and over a hundred other laws. There are many disadvantages to changing to go under the DOI in the future, and deserves a full public education, debate, and discussion of the issues before signing off. If a requirement for referendum is not added, the input of the Hawaiian people would likely be ignored.
For those who are pro-Federal Recognition, there would also be the benefit of making the approval of any Hawaiian governing document more likely to be approved. There is little trust from the community in the Kana'iolowalu / Na'i Aupuni process, largely due to the fear that a new government will be empowered immediately to take action without limit on behalf of all Hawaiians.
If there is a limit on the government power to get U.S. Federal Recognition (until approved by voter referendum), then it would actually have the time to build trust and convince Hawaiians it can be trusted to be the primary political entity for us. No matter what method Hawaiians come together politically, this stage will be needed.
Currently, these are the steps required for a Native Hawaiian Governing Entity to request and receive U.S. Federal Recognition (under the current DOI proposed rule):
Create a governing document (which 'fits' the DOI rule requirements)
Send it to Native Hawaiians to vote to accept/reject it via referendum vote
The governing document vote must pass, and the 'yes' votes must have "broad-based support" (more than 30,000 to 50,000 votes)
Populate the government positions based on the document (elect Executive and Legislators)
Executive may write a formal request for U.S. Federal Recognition (submitting a letter on how the government was created)
If the Secretary of Interior approves the request, the Native Hawaiian Governing Entity is granted Federal Recognition as a native government, similar to tribal entities. However, with no land transferred or any other claims or negotiation in advance. No opportunity for voters to approve.
I am proposing adding a simple step to the governing document:
Any formal treaty or request to integrate sovereignty with another sovereign entity (including U.S. Federal Recognition) shall first be approved through a referendum of all recognized voters, without exception.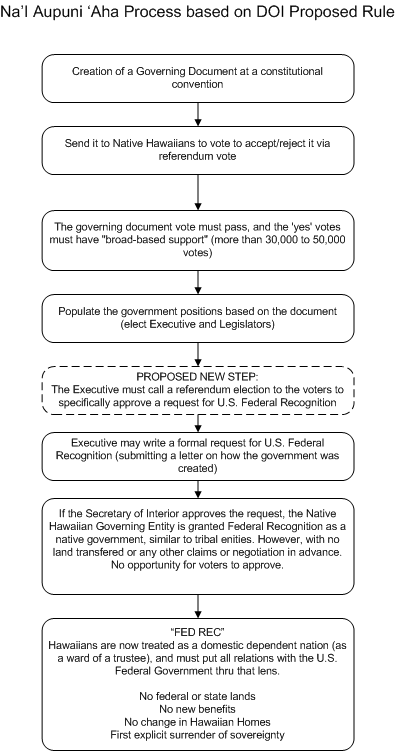 By putting aside the most controversial issues for our lahui, we allow any future Hawaiian government time to build trust and respect of our lahui.
Mahalo nui for your consideration.
– Raul Nohea Goodness