Here i describe the process to register as a delegate to the convention called by the new entity Na'i Aupuni.
In my prior post A Call for Nomintating Naʻi Aupuni Delegates to Preserve Hawaiian Unity – Guard Against Unrepresentative Action, i explain my reasons for doing this. However, since one of my aims is to simply make this (or any future process) more truly representative of Kanaka Maoli and (descendants of) Hawaiian Nationals, this guide is for anyone trying to enter in the same process in the next couple weeks.
Election Notice (email)
First, i received an email on Aug 3 from Election Administrator <help@election-america.com> , Subject: "Election Notice"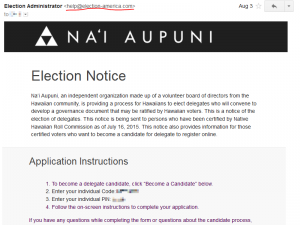 These are the links in the email:
https://vote.election-america.com/naiaupuni/
https://vote.election-america.com/naiaupuni/nomination.htm
The body of my second email from them contained the Election Code and PIN. You use this to log in to the election system. Note, the first email i received was exactly the same, but missing the Election Code and PIN. They must have send a second email to correct the mistake. Note, my second email was in my "Spam" folder, so i didn't see it for a couple weeks. If you are missing it, check your "spam" folder.
As for anyone added to Kana'iolowalu without registering directly on their website (your name was added from another list?), i don't see how you would get an email. Maybe they would send you a mailer via the post office? You should email naiaupuni@election-america.com . If they cannot help, they are not doing their job as the contractor hired by Na'i Aupuni to implement the elections (with your $$$ from OHA).
If you want to register but not agree to the language "unrelinquished sovereignty of the Native Hawaiian people and an intent to participate in the process of self-governance", supposedly you can still register thru the Roll or via OHA's Registry: http://www.oha.org/registry. You can also try the Kanaʻiolowalu Kōkua Desk.
When you log in, you will see the "Required Information" form, which displays your Name, Address, Phone, Email. There is a section to update your Mailing Address and phone number. Also, you may upload a picture/image file of yourself.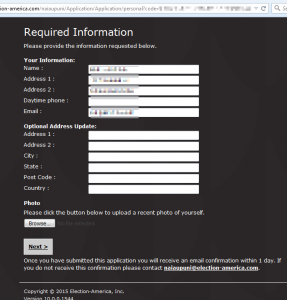 I updated my address as well as uploading a picture (i assume it could be used in a voter guide, but it doesn't say what it is for at this point). When i selected the JPG file for upload, i thought it didn't work, but a minute later, the picture appeared – just give it a minute or so, depending on the size.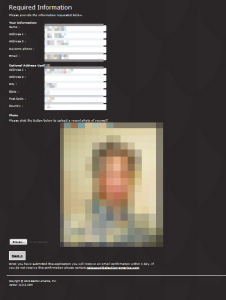 I click the "Next" button. The text under says: Once you have submitted this application you will receive an email confirmation within 1 day. If you do not receive this confirmation please contact naiaupuni@election-america.com.
Next page: Eligibility Criteria
You have to agree to attend the 8 weeks for the Con-Con from Feb-April 2016. Yes/No.
Also enter your date of birth. I say "Yes" (i have reasonable flexibility with my employer).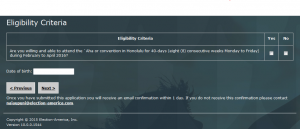 Next page: Optional Information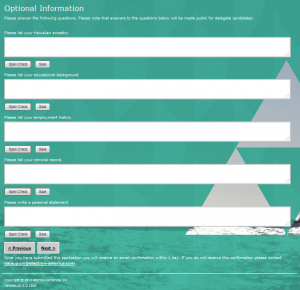 Please answer the following questions. Please note that answers to the questions below will be made public for delegate candidates.
Please list your Hawaiian ancestry.
Please list your educational background
Please list your employment history.
Please list your criminal record.
Please write a personal statement.
I assume this is going directly in the voter guide. These seem to be typical questions for candidates to answer, except for the "criminal record" item. In a US Federal or State election, there would be some statutory requirements regarding criminal record of candidates. But this is part of a "new" convention, which may or may not form a "governing entity". So there is no statutory requirement. I guess that is why the questions are optional. In my case, i do not have a criminal record, but if one did, it would not be disqualifying. But people would want to know, as well as understand the reasons. I will leave it blank, as criminal records are usually public record anyway.
In the Election Notice, http://naiaupuni.org/docs/Naiaupuni_NomNotice_hires.pdf
… it states:
b.optional information relating to Hawaiian ancestry, educational background, employment history, criminal record and a personal statement limited to 300 words.
However, on the web form, the limit is 600 characters. It is in no way possible to fit 300 words into 600 characters. It is about 100 words. Please increase your field size limit as soon as possible. There is no way to put a meaningful statement to voters in that space. So i have to add the statement;
A statement of 600 characters is far too small for voters to make decisions. Go to http://forums.hekili.net/c/elections to view candidates true statements.
These kinds of shenanigans are exactly why we need our own open sites for dialog and organizing. Any delegate candidates can go to forums.hekili.net today and submit their full statements.
OK, i enter all the details, Save, and go to "Next".
Next page: Nominations
Please enter the names of ten eligible voters that you hereby represent have in writing nominated you as a delegate candidate.
You can view a current list of eligible voters from the Native Hawaiian Roll Commission here.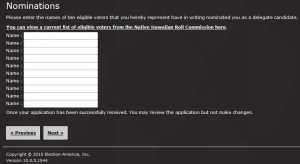 Once your application has been successfully received. You may review the application but not make changes.
So this is where we submit names of people who nominate you. It is on you to get them to support you and have done it in writing. At this point, i will stop this post, since i do not yet have the 10 supporters. But it is clear the registration is not complete until then.
I hope this is helpful to any and all potential delegates to the Naʻi Aupuni convention. Please share with all who want to break open this process!
-Raul Nohea Goodness
Update: since there is no written form supplied for the 10 names to nominate, i created one myself. Download it here, print out copies for people to sign, or else have them. PDF version and Word docx version.
Update 2: there is a new forum at http://forums.hekili.net/c/elections where potential delegates may solicit nominations, and supporters may pledge to support.
Update 3: here are the last steps in the process, just for completeness:
On Sept 14, 2015, i logged back in to enter my 10 supporters for nomination. I noticed the personal statement field size was increased from 600 characters (about 100 words) to 1200 characters (about 200 words).
I entered my 10 supporters names, who i had previously checked against the kanaiolowalu.com/list and also had letters in writing. This is another situation where this process deviates from generally accepted election systems. Normally when a candidate files nomination papers, they do need to include a minimum number of signatures. However, in the Na'i Aupuni case, 10 are required (minimum), but only 10 slots are available for submission. This means if any one is contested and invalidated, the nomination can be invalidated.
For my own submissions, there were a couple cases where the legal name on Kana'iolowalu was incorrect (typo). In those cases, i listed the correct legal name. We shall see what happens…
In contrast, typical nominations list a minimum number of signatures, but allow and encourage more than the minimum, since some are expected to be invalid.
The State of Hawaii's Signature Requirements are listed here:
http://elections.hawaii.gov/candidates/signature-requirement/
Candidates are encouraged to file early and obtain more signatures than required in anticipation of invalid or unqualified signatories. Once a nomination paper is filed, candidates will not be allowed to add more signatures.
So this is another irregularity in the electoral process to contest, possibly leading to the invalidation of potential nominees.
Continuing on, after submission, you must declare the information submitted is correct:

Next, this is the final submission, after which no changes may be made:

After submission, you receive a final "thank you" page, and an email copy of the submission.
I leave this step–by-step posting for the historical record.
Pau.